Posted on
By Tony's Music Box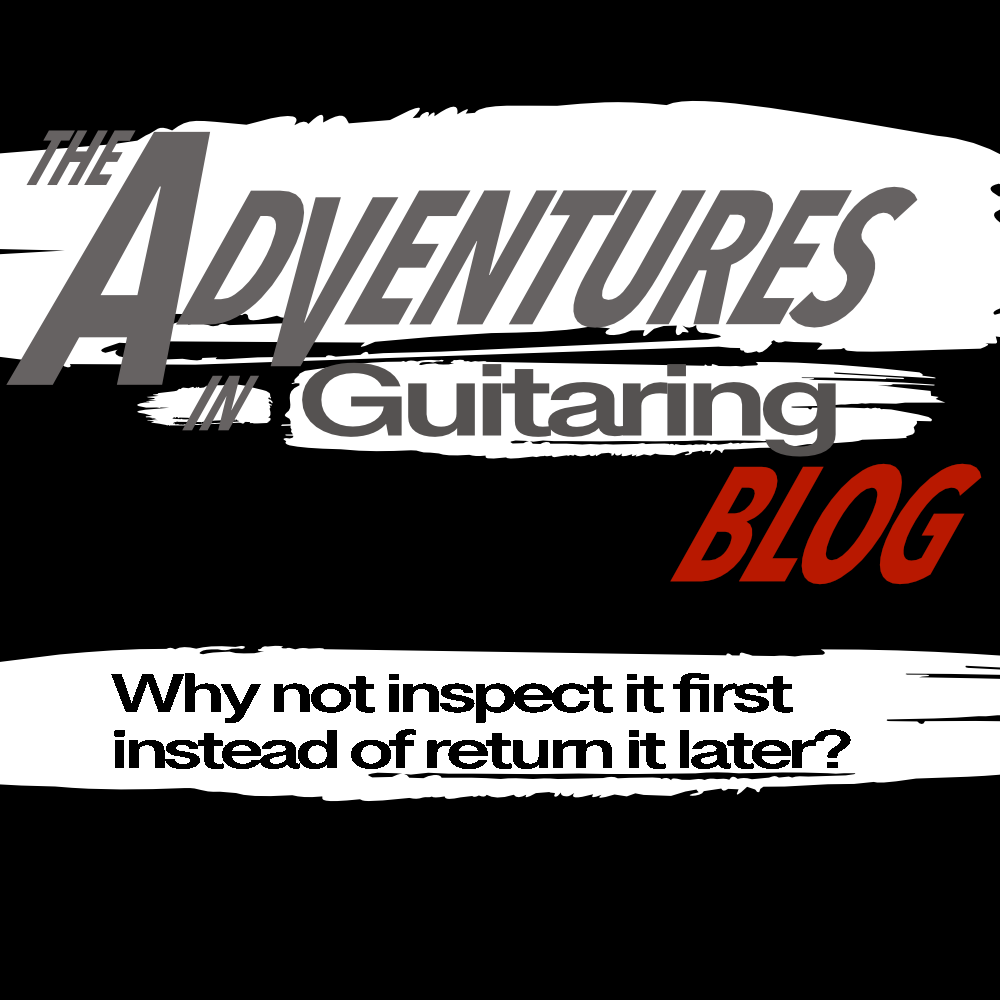 A guitar never gets a second chance to make a first impression.
Let's get right to it.  Guitar inspections matter because of the customer experience.  Period.  We believe that your first interaction with an instrument should be representative of the best that instrument has to offer.  It's that simple.  Now, if you want to dive a bit deeper, keep reading.
So you finally went and did it.  You 'pulled the trigger' and got that jet black 6-stringed beauty made in (China, Mexico, Japan, Indonesia, Canada, USA, etc.).  You pull it out of the box and it looks exactly like you imagined it... and exactly like the glossy marketing presented it.  You plug it in, crank up the volume, and ... um... your experience was just taken down a few notches. It's not the sound exactly that isn't right, but it doesn't feel the way you thought it would.  So why did this happen?
It's true that modern guitar manufacturing is a marvel.  Quality control processes have seen a 100 years of refinement.  Complex crafting processes that once were painstakingly performed by hand can now be computer cut with stunning accuracy and precision.  Still, fundamental challenges reside in the use of certain materials. Wood is susceptible to changes in environmental conditions (especially humidity).  There can be a lot of shifts in climate from manufacturing facility to truck to warehouse to truck to retailer, and we've all heard stories about how shipments can sometimes be handled in transit.   Also, as great as the manufacturing and QC processes are, there are still occasional misses in QC... and tiny things can make a big difference.
In a world where online marketplaces and retailers have become ubiquitous, the convenience of access to the brand and configuration of your instrument of choice is just a few clicks (or taps) away and delivered to your door.  It's a beautiful thing, right?  Well, maybe not in the case of the forementioned 6-string.  So what does one do in this situation?
Well here are a few options.  You do what's right for you. 
return the item and get another one
live with it and convince yourself it's okay
spend some time on YouTube watching guitar setup videos - this can actually become a good long-term investment if you can find a reliable source of information
contact the manufacturer for support and maybe they'll help
go to a local guitar tech/shop and pay for a setup
But all of these options avoid some real questions:
shouldn't a new instrument arrive at its best? 
if there are small issues (even tiny cosmetic ones) should you not be aware of these before your purchase?
shouldn't it be ready to play, save for maybe a cursory re-tune of the strings? 
The answer to all of these is yes.
That's where the TMB Guitar PROBE comes in, providing you with confidence in your investment and helping ensure we all get what we're after: an excellent customer experience.  We encourage you to speak with our technicians in store, or read about our TMB Guitar PROBE inspection here. 
If you're not buying from us, here are a couple of retailers you might consider looking at.  We are not endorsing or making claims as to the adequacy of their inspections, but they do offer something.
Canada:
Cosmo Music
USA:
Sweetwater